have been meaning to do this for a while but havent had the time to load the new pics so hear gose
I started out with a 1988 jeep yj with a 2in shackle lift and 1.5 rancho suspention lift 31wildcat ext tires 4banger and ax15 trans np231 transfer I think it was a while back pritty much stock with a small lift
I picked it up off my dad for 2k it was a good deal untill the motor blew 1000mile later
now now lets not get ahead of myself I took it out a few times to play on the trails and in the snow and was so unsatisfied it was nothing like the jeep I had known when I was a kid my dad had an old cj when I was young and it took us everywere this thing had to be pulled out of a foot of snow by my friends stock ford suv :banghead: he still talks about it :bsod:
anyhoo I ran the **** out of it and the motor did not last long I new this was not a good daily driver so I bought a little car and the jeep became a toy :lildevil:
:lildevil:
time for the fun to begin
so a buddy of mine had this 76 waggy sitting in his back yard and said I could have the 360 out of it if I took the hole thing he said it ran before he parked it :bs: so I brought it home and started to rip it apart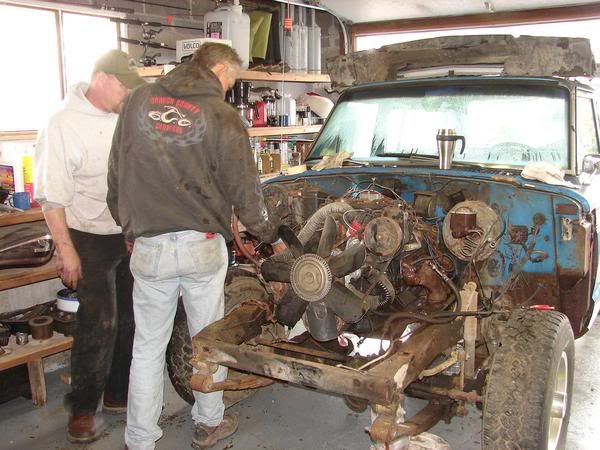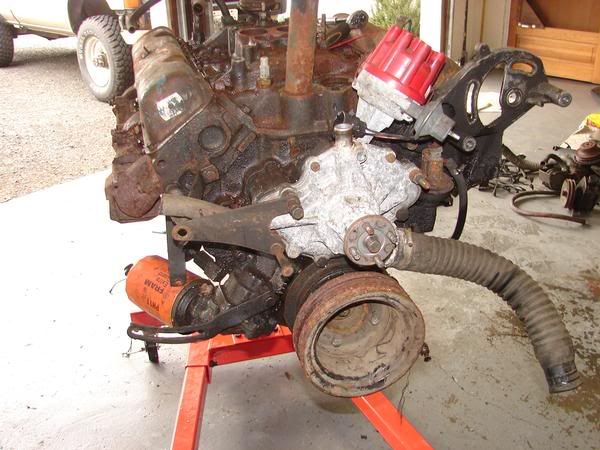 after getting the motor pulled I started looking over the block and got very excited this isnt a 360 ITS A 401 :grin:
after that came alot of cleaning
well just to make sure I pulled the heads and found out that if I had run this thing in my jeep the way it sat I would have had to pull it back out the motor needed a rebuild bad :banghead: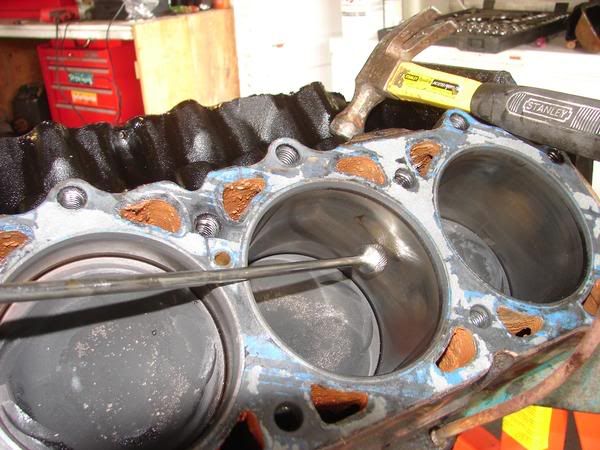 me and my dad sent the motor down to berrys motor shop in chahalis real good guy that builds great blocks he took the 401 and bored it 30 over that way the nexed time I do this I can bore it to 60
with alot of prep and hard work as I am a perfectionist it turned out ok
i should have kept the holley but I had a edellbrock 700 that I new worked and the holley needed a rebuild
and so it was time to pull the yj apart and rip out the blown 4banger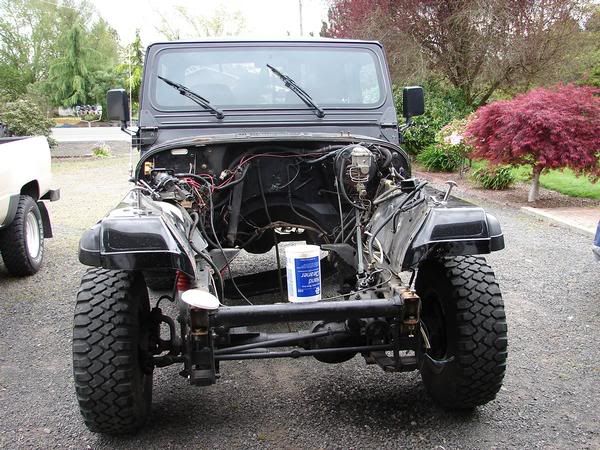 old one out new one in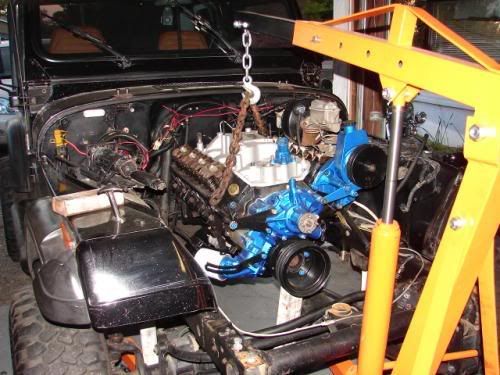 I got a np435 out of a local junk yard for a 100bucks with a np208 hooked up to it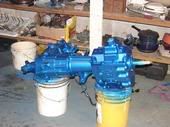 I spent 4weeks locateing all the convertion info and parts to finish the job thanks CL AND E-BAY
LIST OF PARTS TO MAKE IT WORK
UNIVERSAL BELLHOUSING AMC
PAINLESS WIREING KIT FOR AMC 401 TO CJ7
350 CONVERTION SLAVE CYLINDER FROM NOVAK CONVERTIONS
EDELLBROCK PERFORMER MANIFOLD
MSD IGNITION KIT PLUS HEI DISTRIBUTOR
NEW PILOT BUSHING TO FIT THE NP435 TO 401 FROM NOVAK
REBUILD KIT FOR NP435 FROM NOVAK
RADLOCK RADIATOR NOVAK
I think that is all the big stuff I ran it with the stock axles for a year I was broke after the motor swap and needed to recoupe.
one year later I sold my boat and my quad and started looking for new axles I had decided not to try and make the stock ones stronger as I would probly break them with the power of the motor here is the rundown on the axles.
rear ford dana 60 full floating axle
shortend by bent metal customs
moser molly shafts
4.56 yukon gears no locker yet :lildevil:
front ford dana HP44 with chevy 8lug flattop knuckles
also shortend by bent metal customs
moser molly inner shafts not outers
4.56 gears
truetrack limited slip locker
me and my dad welded up all the shock mounts and perches and saved some money on doing the soa lift and highsteer ourselves we ran into a problems with the np208 after mesuring the length for the rear driveshaft the solution was a np205 with a flange convertion and a cv 1ton drive shaft.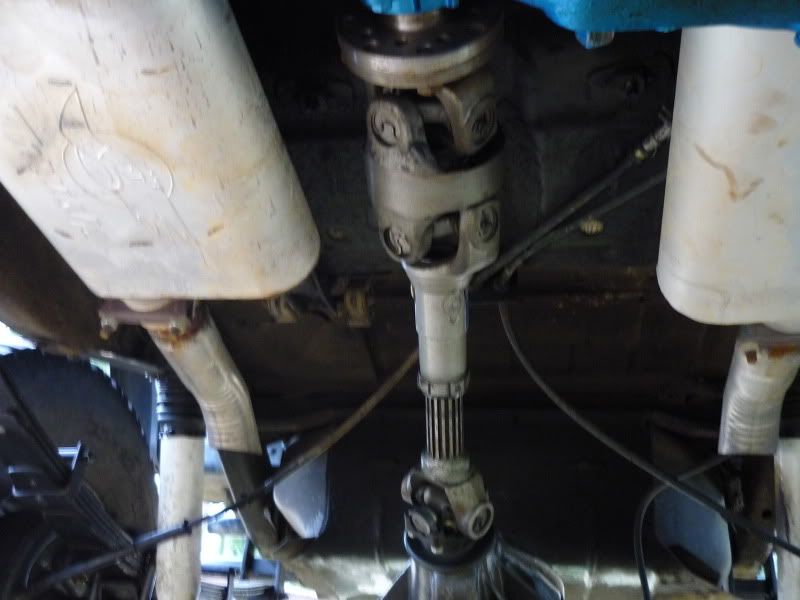 all said and done here is how she sits
we redid the motor mounts and put the new shorty headers on 3 months ago it had glass packs but I ditched those for thrush mufflers and as everyone knows u cant run a trail with glasspacks.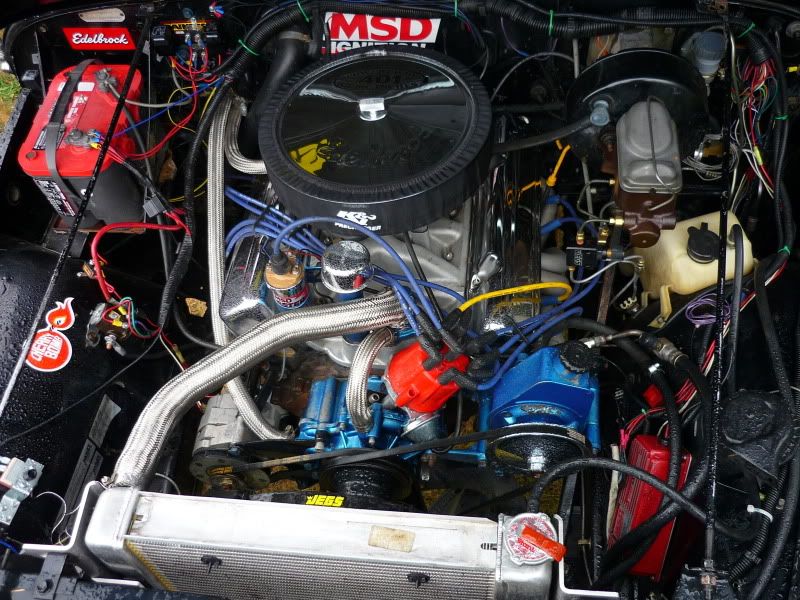 new pics aug 22 2009
so after alot of hassle at les schwab I got my rims and new tire all done 8in rims on mountaincat **** Cepek 35s
black on black I think it looks badass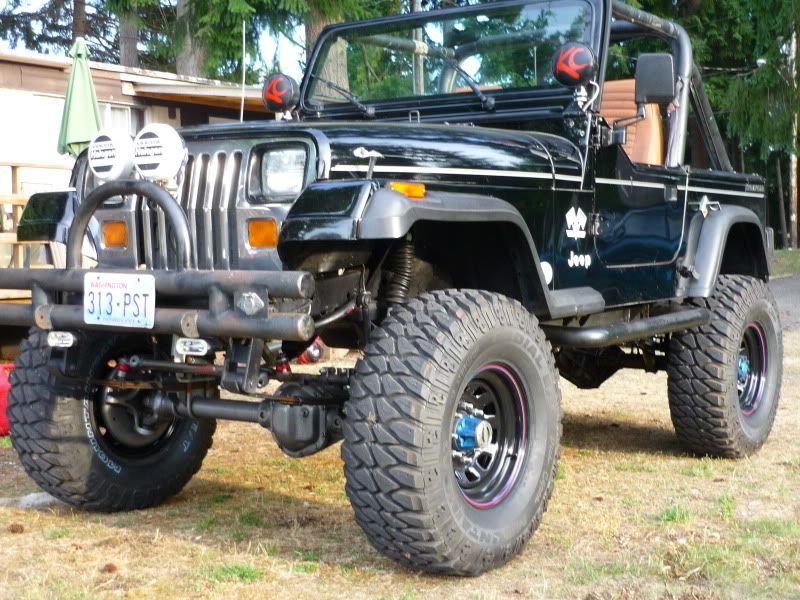 I hope u all enjoy this as it was the funnest build I have done to date I learned so much building this rig and I am still broke
:grin:
stay tuned for all my nexed steps :lildevil: