This is not the official run report for the Peak Putters' Annual Freeze Your Buns Run, but just what the view was like at the back of the pack. For the official report, check out
http://www.peakputters.com/forum/vie...?p=13019#13019
.
Sorry, not a lot of pics, but here is what I have. When I reached the Sno-park Saturday morning I found Chris with his water pump-less 'yota waiting for Lurch to return from town with the proper pump. Soon, the rest of the group arrived and we pulled out. We made good time for a bit, but TJDave and I, concerned about Lurch and Chris knowing where we were at held back a bit by traveling deeper in the snow than the rest of the group. Rjjff came back to encourage us to keep up the group, going so far as to pull Dave's TJ up the hill. We were successful and soon Lurch and Chris caught up with us. We would have made better time, but I was forced to push both Chris and Lurch up the hill on the front of my winch cable.
Frustrated by the speed his Bronco was making at the front of my winch cable, Lurch offered me a nickel apiece for my valve stems (sucker, I got spares.) I took him up on it, and soon his Bronco was able to go up the hill without my winch cable pushing it. Lurch offered to put the air back in my tires, but I told him he could have the nickels back if he did not.
After a short while we came across TJDave where he had left the rest of the group progressing ahead. There was a described 'nasty' sidehill ahead. Lurch and Chris tackled it with no drama so I decided to follow them to meet up with the rest of the group. I went about two Jeep lengths on the sidehill before my Jeep "fell off of the mountain."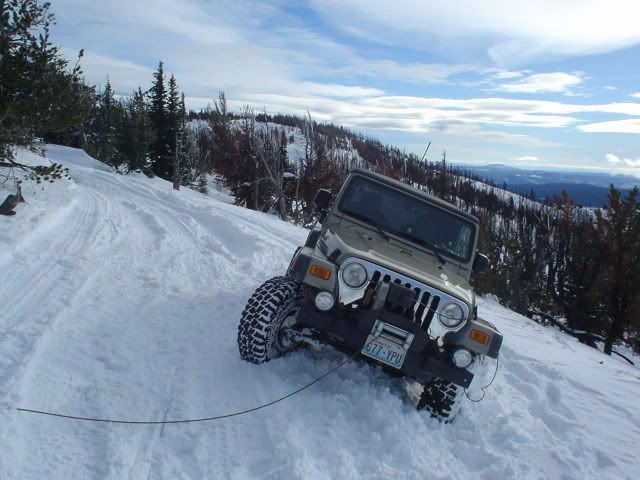 It was near lunch time, so I opted to winch myself back on the trail and head back up to picnic with Dave.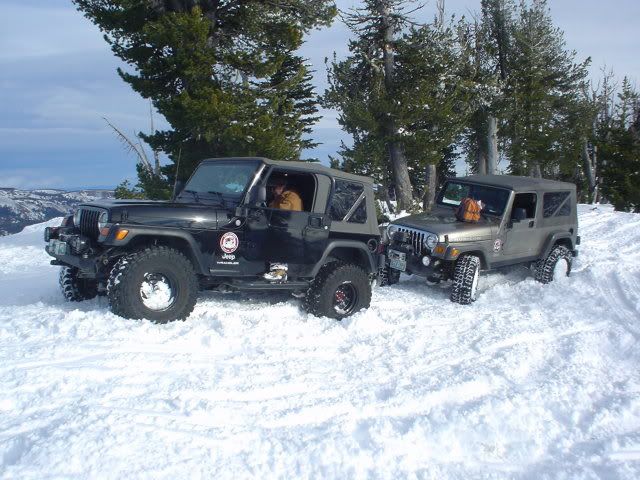 From our vantage we were able to watch the rest of the group play king of the mountain, break their stuff, and get Old Green unstucked. We also had some, mostly, friendly conversations with snowmobilers. Getting bored Dave and I did some playing to explore the freedom provided by our new low (no) air pressures provided by Lurch. Dave even got to use his winch on me, because low air pressure or no, you can't fix stupid.
We made our way down the mountain with the rest of the group once they had pulled Old Green out of the valley. The day trippers made their way home and the rest of us enjoyed our dinner around a warm fire in a Sno-Park full of archery hunters. We enjoyed a conversation with a young friendly drunk who eventually told us only fools drive Jeeps. He then explained the foolishest of them all are those Rubicon owners. Of course, his 'yota was in his shop, not stuck in the snow where a true wheeler belongs. 8-) [For those that do not know me, we were sitting next to my Rubicon when our friend shared his opinion and three of the rigs of the day were Rubis.]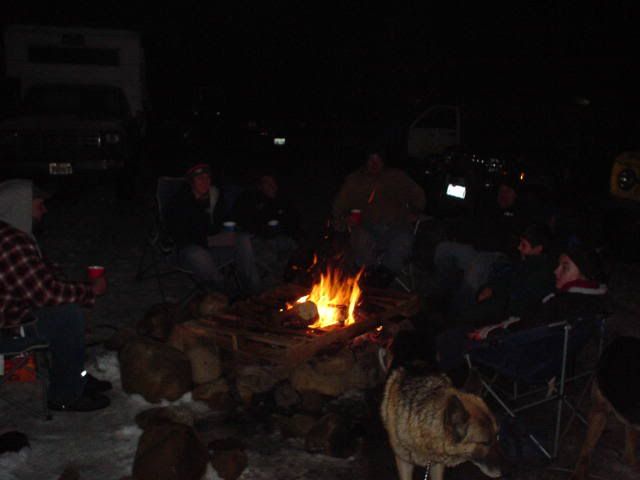 I begged a spot in Lurch's condo (he owed me after spending so much time at the front of my winch cable.) So freezing my buns, I did not. Morning brought Man Quiche. Man Quiche is always good, but I do not think it is going too far to call this batch epic. [For those that do not know what man quiche is, suffice it to say you'll have to find out before you are a true Putter.]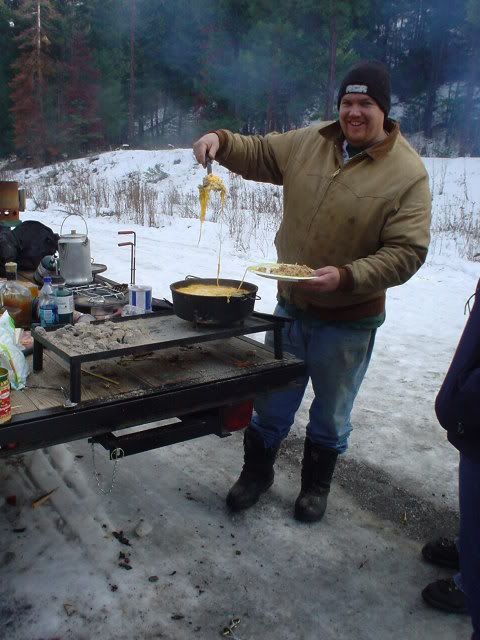 Even loaded down with Man Quiche and its side effects Lurch, Chris and Nichole, and I headed out the road on the far side of the park to see what it holds. We traveled icy gravel roads until we found the universal sign of a good trail; an older hunter on a quad flipping us off. [For those in the know I think we were on Sedge Ridge. And yes, on a green dot trail so no need for the lack of love shown to us by the quad riders.] Following that we found a nice little hill climb, a little bit of off camber trail and some tight spots. No stuckage, but Lurch's front locker gave up the ghost. We made the intelligent choices and soon made our way back to camp, but might have skipped some fun choices, but my wife was already thinking I was overdue so I probably avoided some other kind of carnage.
Roman, you'd be in more trouble for not making it (without your keg), but at least I brought this (for airing up purposes only.)[Please note, this is a post wheeling picture.]
To echo OG's Thanksgiving post, I just love running with this group. Good people, good times (and good food.)