Jeff (Getzpayd) and I left town @ 3:30 ish Friday heading up to Liberty. We got to the campground and found the camp site that Curtis had secured. We were soon joined by Steve and Curtis who I think were returning from Cle Elum. We did not have the campground all to ourselves, but it was surprisingly vacant considering the holiday weekend. After a bit Ed and Karen rolled in and camped nearby. Steve, Dolly, Dion, Curtis, Shari, Brian, Lee, Jeff, Ed and Karen grilled and enjoyed the fire and decided to roll out at 9:00 AM.
9 sharp :thu: found us rolling and getting very little dust or skeeteres in our teeth. We found a mud hole on 319 that probably would have been less dramatic to cross if I could listen to my spotters.
ops: A little carnage for my troubles that Curtis pretty much had repaired before I could snap a pic. We moved at a pretty good pace and soon found ourselves at Stair Step. I led Jeff to the bypass and after a few attempts by yours truly discovered that must be a downhill by pass, because making that uphill would make you more of a hero than the Stair Step. 8-) The stock LJ and the less than stock LJ did the stair step with no drama.
Lunch out of the rigs followed and then Ed led us to a
tight
trail. This is the reason that I am willing to constantly break my 'Don't follow Ed rule.' [He is a great Liberty guide.] Our travels found great trails, a few challenges, snow on the 4th of July weekend!!!!!, unbelievable views, and good times. Some of the trails seemed a bit much for a stock rig, but Jeff got it done in his (wife's) Rubicon. Is it still the wife's or are you gonna' buy her a mall crawler so you can have this all to yourself? :thu:
I managed to get to camp minutes before my wife and other two Jeeper chicks arrived.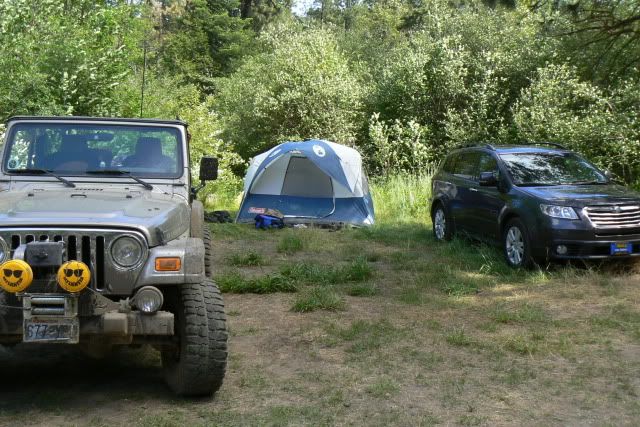 Dolly was painting their nails red, white and blue almost before they were out of the car. Dolly has two new friends for life. A great night of grilling and camping was followed by 4th of July in Liberty in the morning. If you are cheesy enough to enjoy a Norman Rockwell painting Liberty is the place to enjoy the 4th. (I am.) Panning for gold, hands on history lessons, cherry pit spitting contests, tater sack races (my Jeeper chicks cheat, but they win), an entire town potluck with burgers and dogs, and a bunch of muddy Jeeps in a parade with the fire trucks. :thu: :thu: :thu: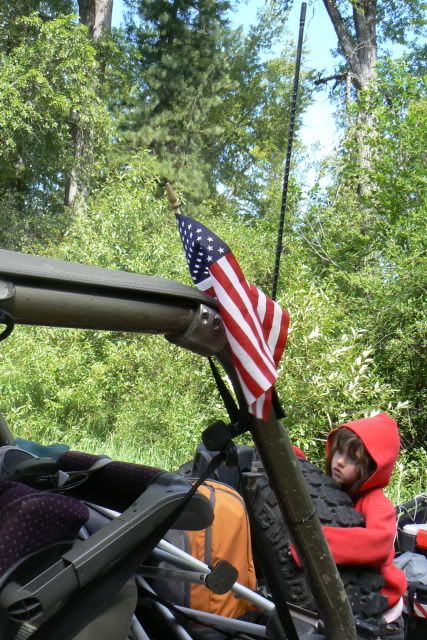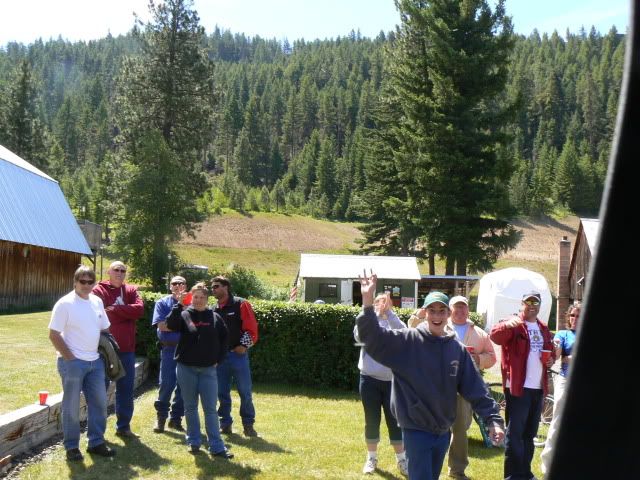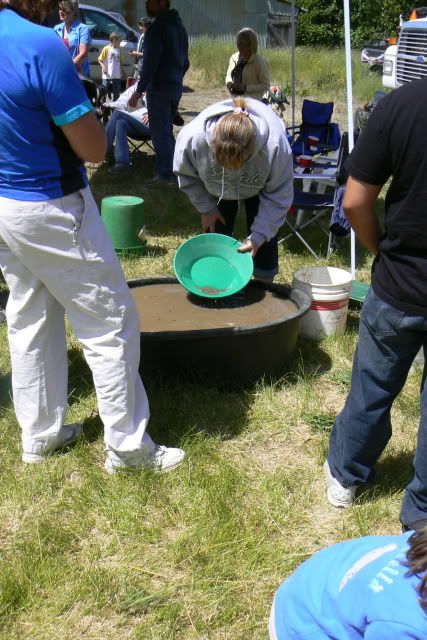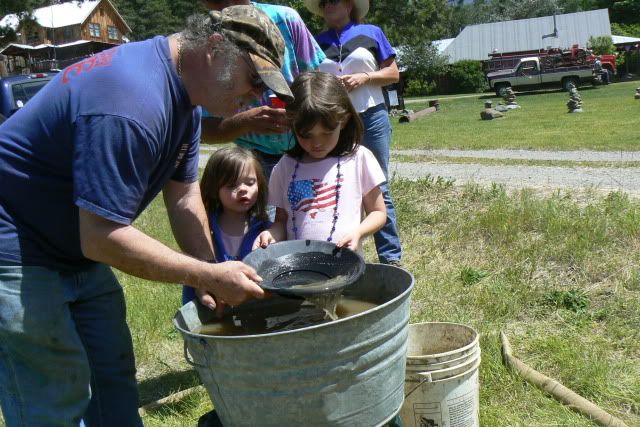 After our Americana festivities a firewood run was good times. On Pit Over Look Trail with Dads Richards in the co-dawg seats they were suddenly very concerned about their sons learning proper tire placement. (The view from the passenger side of the vehicle is a very dramatic very
close
2,000 foot drop.) My backseat driver, Millie, was also very interested in the relationship of the Jeep to the edge of the narrow road.
Sunday night found us grilling and making ice cream around the campfire.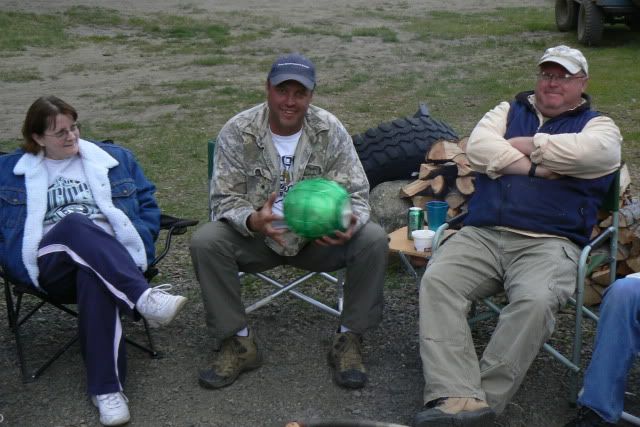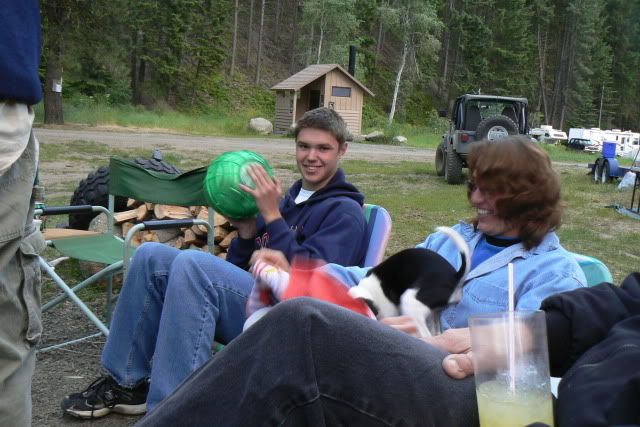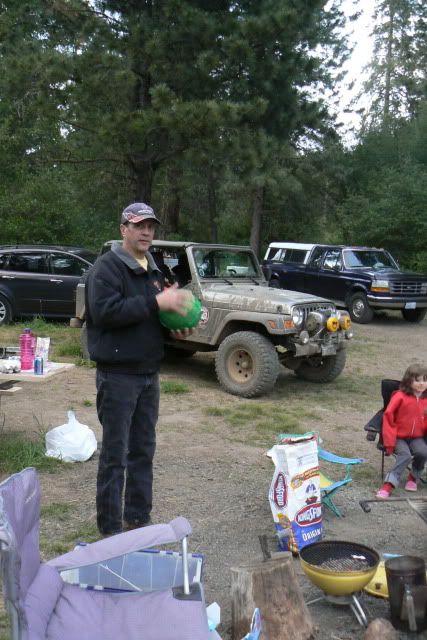 The Richards families should be proud of their boys… no not proud Curtis and Steve, proud of Dion and Brian. They are great guys to have around camp and on the trail. (Okay Curtis and Steve and their wives are also great to have around camp.) Ed and Karen are always a compliment around the campfire. Even if Millie did not like the wheelin', my girls and Chris had a great time camping with the group. Our candidate Jeff can be trusted to bring great deer jerky and was good at showing us how to get it done with a stock rig on the trails. This was a great weekend and another reminder why I am happy to be a Putter.