Deschutes County 4-Wheelers had our first annual "Save the Ta Ta's" fun run this past Sunday. It was a smash hit with all who were brave enough to show up!!!
We had a beautiful run up past Broken Top on the 370 Road, then went swimming in Devil's Lake and had some games and relay races along the lake, then proceeded down the hill a bit and held a prize auction. The club will be adding to the money raised and making a donation to the local breast cancer charity, Sara's Project.
Here is the run report from our leader, Shawna:
While VERY dirty, and not very challenging terrain, I think this was one of the most fun runs I've been on in a while. You guys are awesome! I mean, you GALS are awesome.
Adam was the only one brave enough to don a woman's skirt. Not only that, but he sported pink tennies and a pink top. And he looked FABULOUS.
Josh made custom airbrushed shirts for himself, Jon, and Doug. Ziggy sure seemed to enjoy them!
Here's the whole lineup of guys, err, newly-minted gals:
It wouldn't be a good wheelin' day if I didn't take at least ONE scenic photo!
We actually saw snow. In August. On a 95-degree (in Bend, anyway) day. I had to stop and take a picture and play in it a little bit.
Obligatory flower photos. Sorry. We'll be back to your previously scheduled men in pink photos soon.
One of the flyers I made for the run.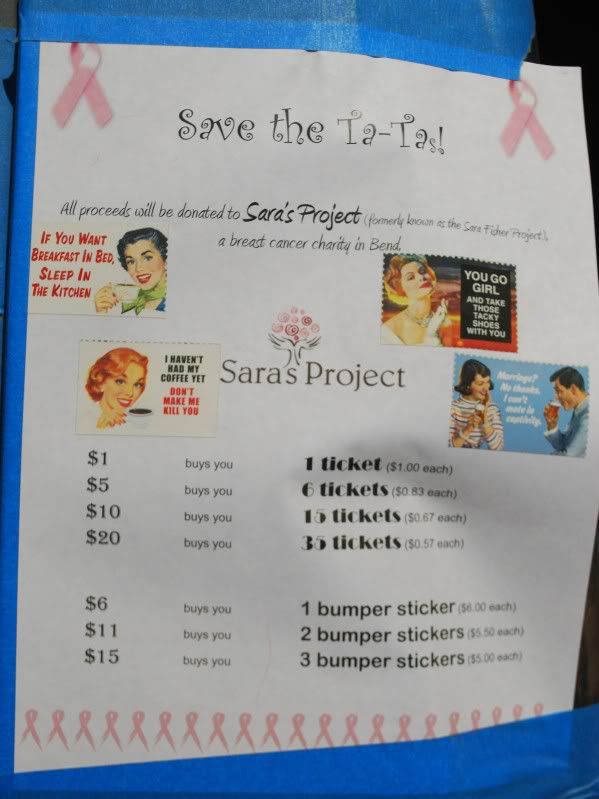 One more scenic photo. Last one, I promise.
One of the pairs of shoes we used for the relay race went perfectly with Mona's toes. Aren't they cute?
Speaking of Mona and the relay race...
Merilyn was supposed to "waddle" (participants drew slips of paper telling them how they had to get to the turnaround point and back) but she gave that up after a couple of steps and "pranced" instead.
Miss Ziggy (without his blue hair) skipping and Michelle running backward. In high-heeled flip-flops wearing pearls and carrying a purse.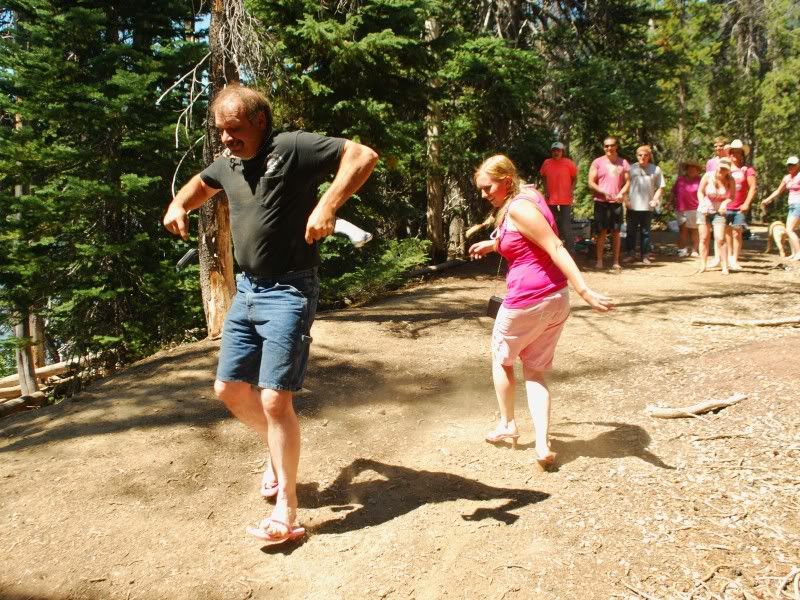 Interference! Mona tickling Michelle. Didn't help--Michelle's team ended up winning.
Michelle's sister, Anna.
Adam, holding his skirt closed with one hand while waddling in high heels. Talented!
Beau. Not sure what he's supposed to be doing, but he looks FAB-u-lous!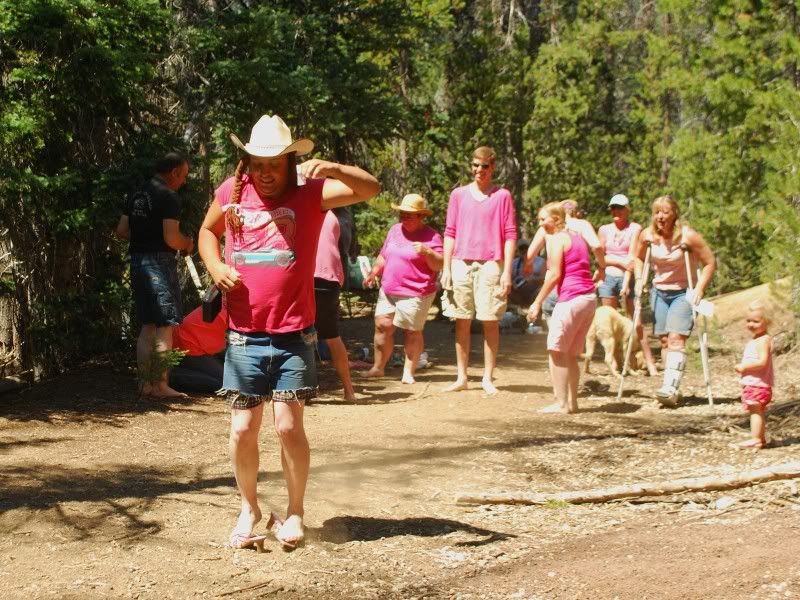 Josh was just supposed to be running, but for some reason he leaped the turnaround line.
Ethan, jogging in shoes about half the size of his feet.
Sue, one of Jon and Patti's friends from Arizona (she was there with her husband Doug, who was sporting a bikini shirt).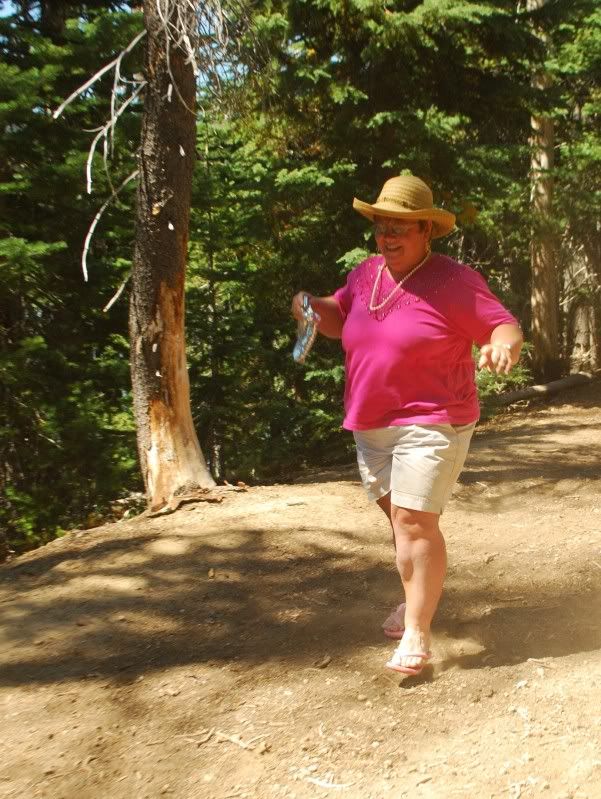 The next event was pin-the-pink-ribbon-to-the-hot-girl's-lapel-button. One of the winning ribbons:
Adam, in his skirt and pink top. Ethan, in his (well, mine, but you know...) pink top, Clinton, in his kilt. Which seems like cheating to me. Sure, it's a "skirt," but it's a MANLY skirt. PINK kilt next time, Clinton!
Miss Ziggy, with blue hair (with a pink bow in it!) and Beau, with the cute country girl look with pigtails and short-short cutoffs. And a pink top, of course.
And last, another good look at those bikini-clad babes. Watch the hand, Ziggy! (Told you he liked those shirts!)
Here are a few more: