So once again at the call of short notice we found out about the DNR and WOHVA sponsored ORV Safety Expo going on at Straddleline ORV Park out on Hwy 8 on May 9th. I found out about it really late on Tuesday night while preparing to do a presentation for the Peak Putters 4x4 club. So after talking with Ceg Wednesday morning about it I made a couple of phone calls and Waycrazy went to work trying to find out information for me. When we still hadn't heard anything back from his contacts on Thursday I jumped in and started making phone calls also. We left a bunch of messages.....but still had no information. But.....Friday morning both of our phone were ringing off the hook. My first response call came in at 7:30am from Angie with WOHVA after that it was the DNR and Straddleline ORV Park. Waycrazy and I figured out that we had pretty much put calls into and talked to every DNR person on the west side. After a few more phone calls I was throwing a few more things together......like a big ORV Trail Watch sign since Ceg had the banner with him headed to Ahtanum for the Mothers Day Run.
I finally rolled out of Richland at roughly 6:30pm Friday night, my little Honda Wagon loaded down with a pop up, chairs, table and everything else for our booth, headed for Buckley to stay the night with Reco Very and Reco's gurl. They are very used to my last minute visits! On the way I had to stop in Yakima and pick up some more Tread Lightly books from Colemancooler and then in Kittitas to pick up some stuff from 4wheelinplus.com (thanks again Ron!!). After some good quality time chatting with Ron and dodging a really stinky skunk, I was back on the road shortly after 10pm and headed over the pass. I pulled into the Reco's driveway right about 12:30am. After doing a little bit of catching up on a few things we all headed to bed about 3am-ish. I tell you what....7am rolls around REALLY early after such a short amount of sleep, but Reco's gurl and I rolled out of bed and headed for Olympia, a couple of 5 hr energies and some coffee and we were good to go. On the way down in roughly Olympia my car started making this unbearably annoying squealing sound, but stopped after a minute or two. I thought it was kind of odd - but it quit so I kept driving. Only knowing that we could see the ORV Park from Hwy 8 we were having to be very watchful about where we were going....that is until we had 3 trucks with dirt bikes in the back passed us and we figured they were probably going to the same place we were. Then we cruised!! As we pulled into the park my car started squealing again
but luckily we were just a short little jaunt to where our booth was going to be. We got there with plenty of time to set up, which is where we encountered our next problem.....
There was a pretty good steady breeze blowing through......
Which doesn't work well with big cardboard signboards, flyers, business cards, table skirting and pretty much everything else lightweight! :laughing: But we weren't the only ones with the problem, and thank goodness for rocks on the ground around us!! So after borrowing a few zip ties we hung our sign boards up and got everything laid out on the table. Unfortunately because I had no power I couldn't run my slide show of the clean up, work party and trail run pictures from my laptop.
Here's our booth after set up: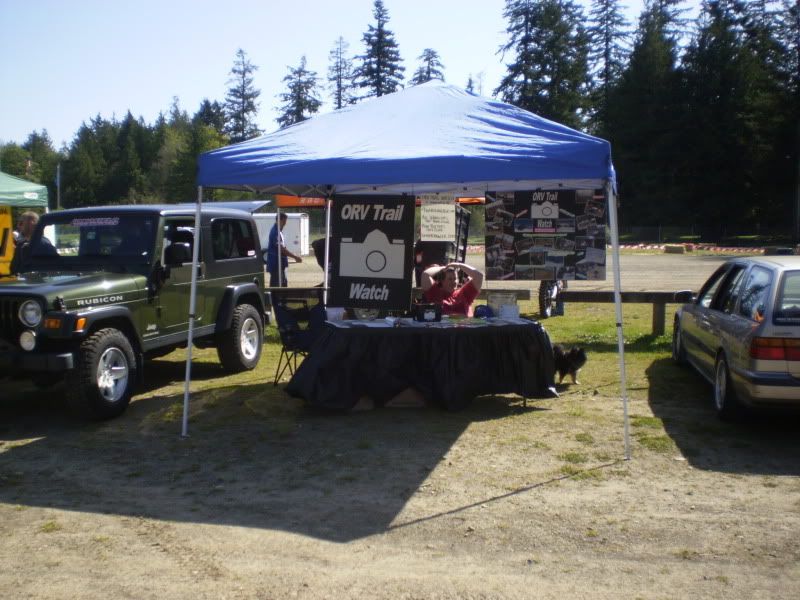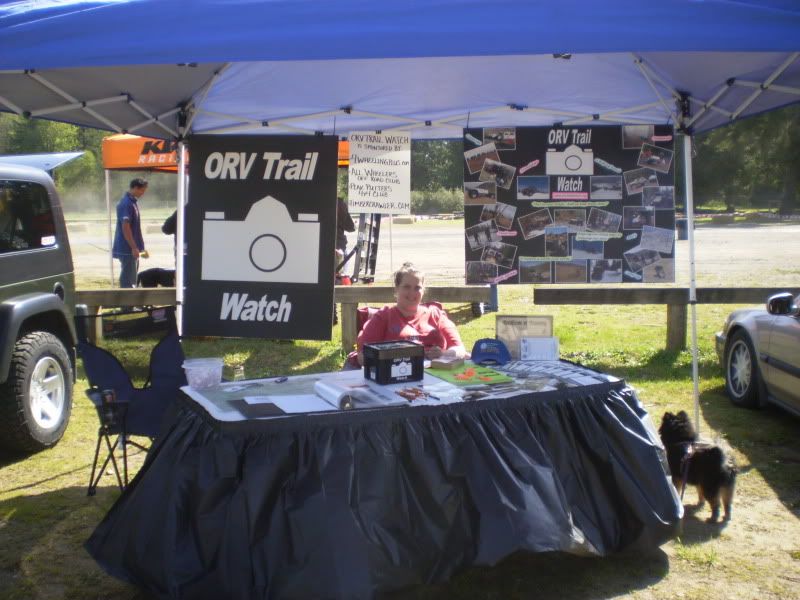 I do have to say one thing, that even though we had a breeze, it was tolerable - I guess last year ......it rained! Go figure though.....it's the west side!!
We got to set up our booth next to the W.O.W booth and met Barbie Jeep and Corey, and after a little while Grant Collins. Great to meet you guys!! They are nice people for sure.
Here is their booth: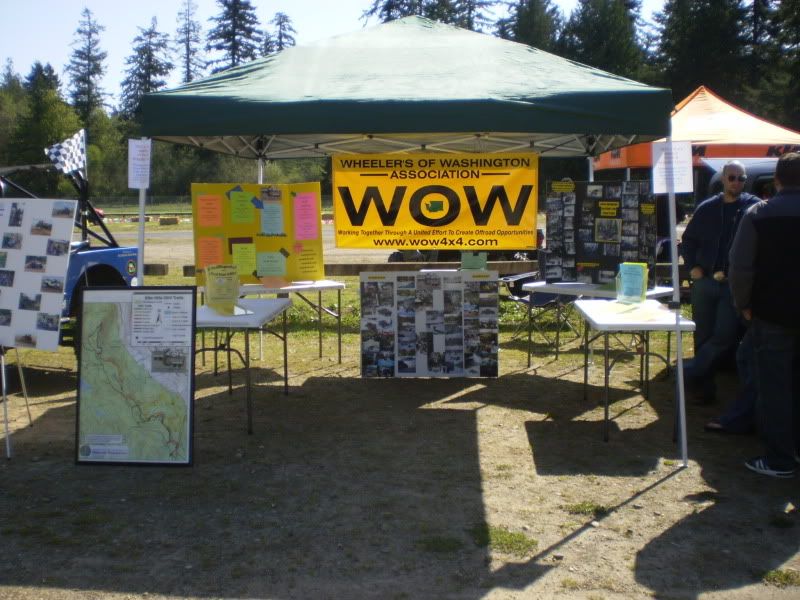 We ended up having Costco next to us on the other side, with Rockstar and Fusion Graphics next to them. On the other side of the W.O.W booth was the PNW4WDA, WOHVA and the America Motorcycle Association.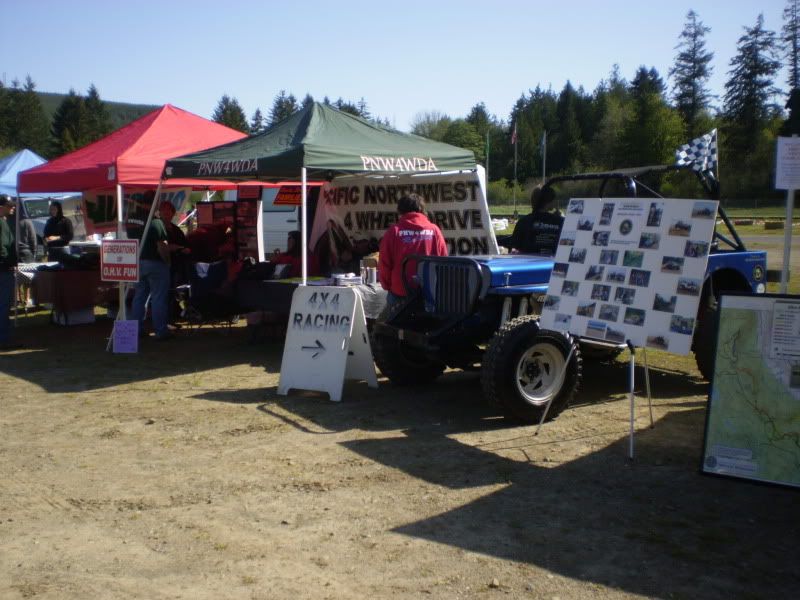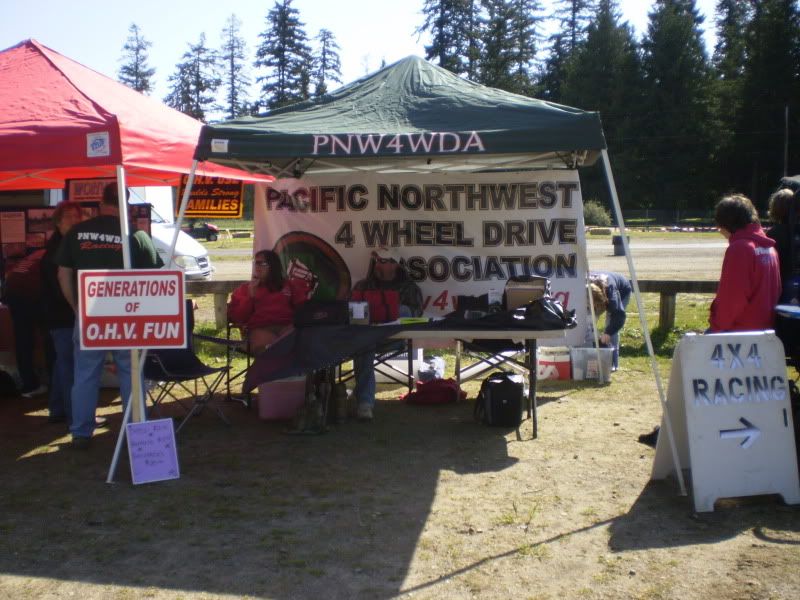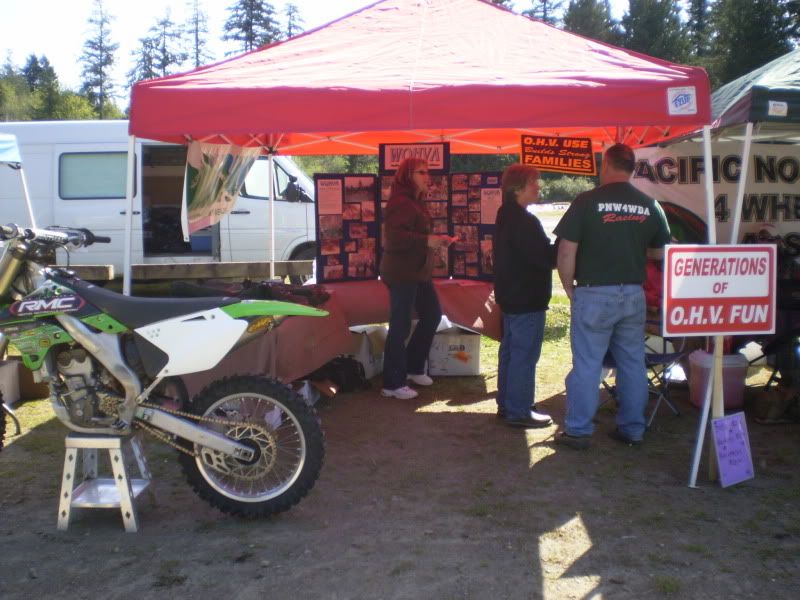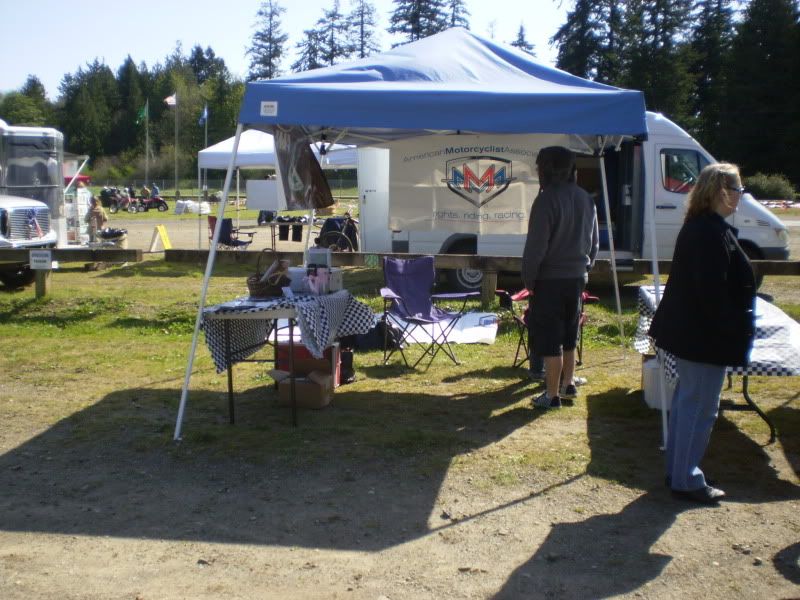 here's looking down our side of the isle..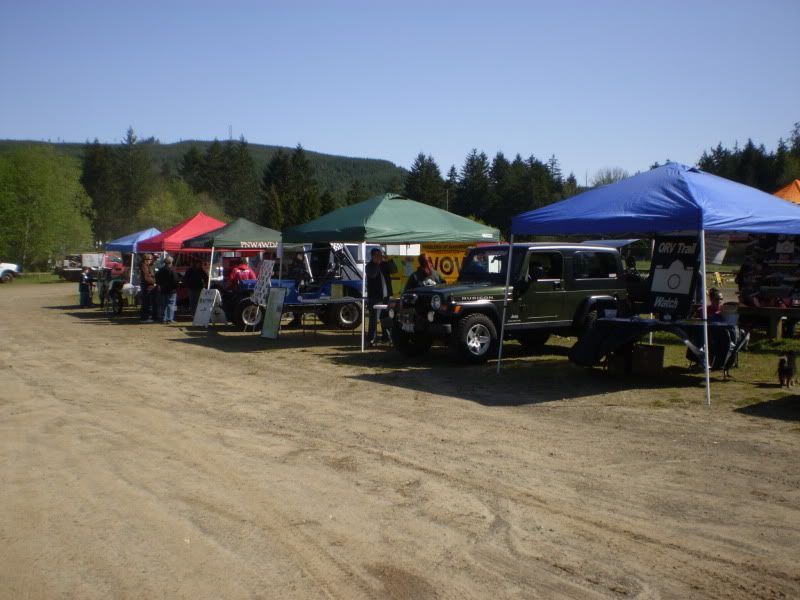 Down at the end was the Cle Elum Trails FS trailer and a few ORV Rangers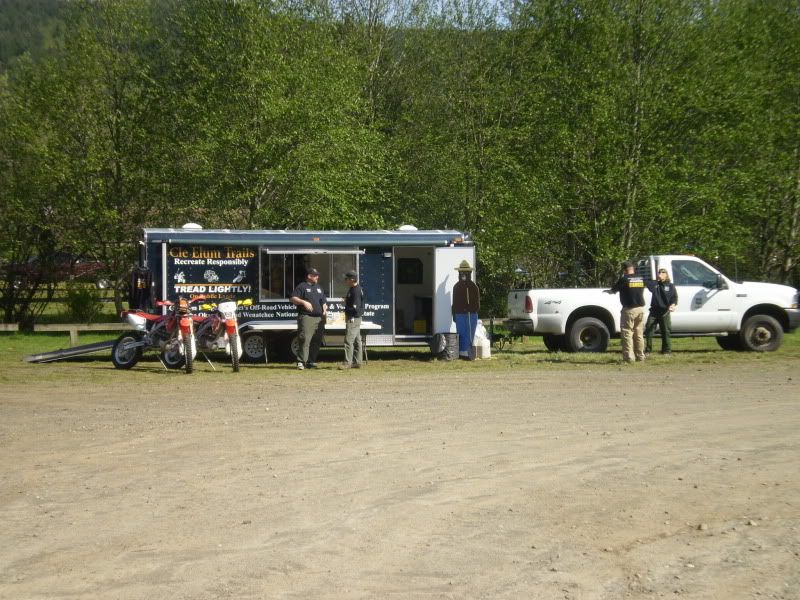 Next to them ended up being the Grays Harbor Sheriff's department, but I didn't get a picture of them - they were kinda late :bucktoof: But moving on up the other side was the Grant County Sheriff's department and the deputies we met at the Beverly Clean up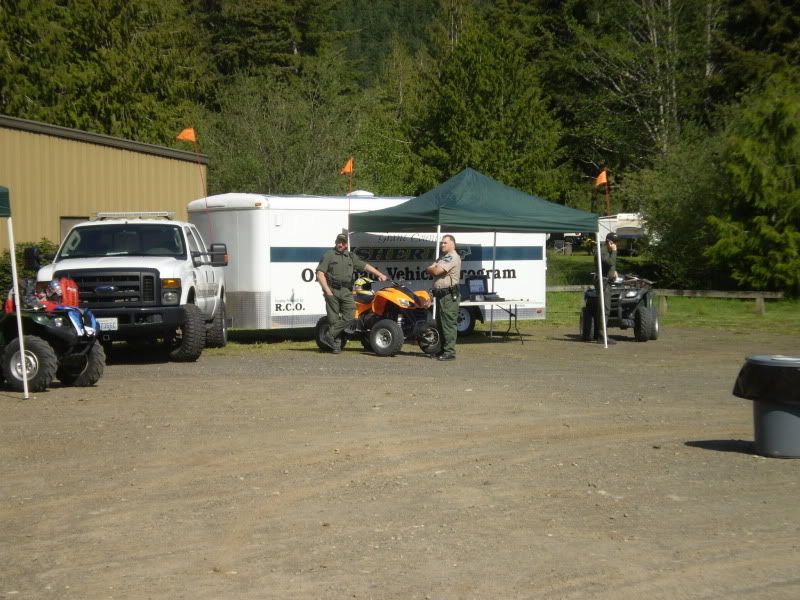 Then the Yakima County Sheriff's department including ORV Deputy's Greenough and Martin.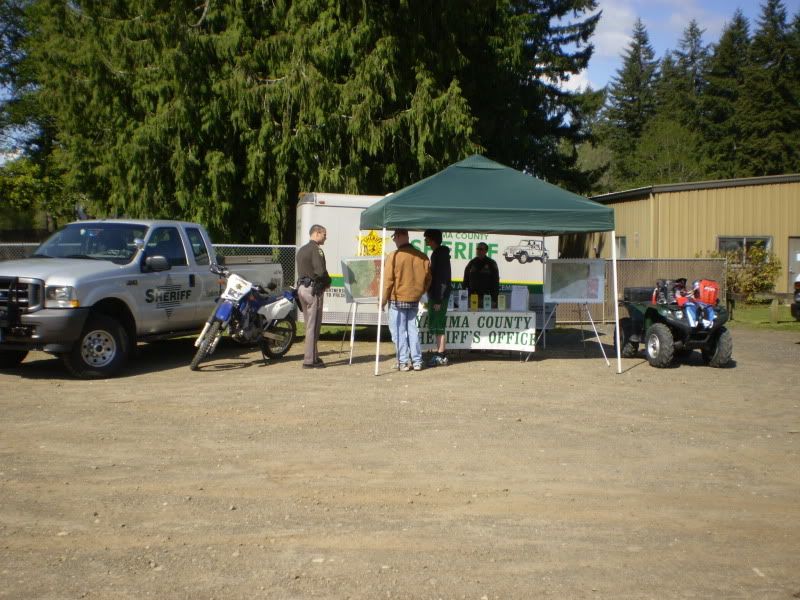 Next to them was another Sheriff's department, but for some reason I didn't write down who it was and of course I can't tell from my pictures....lol.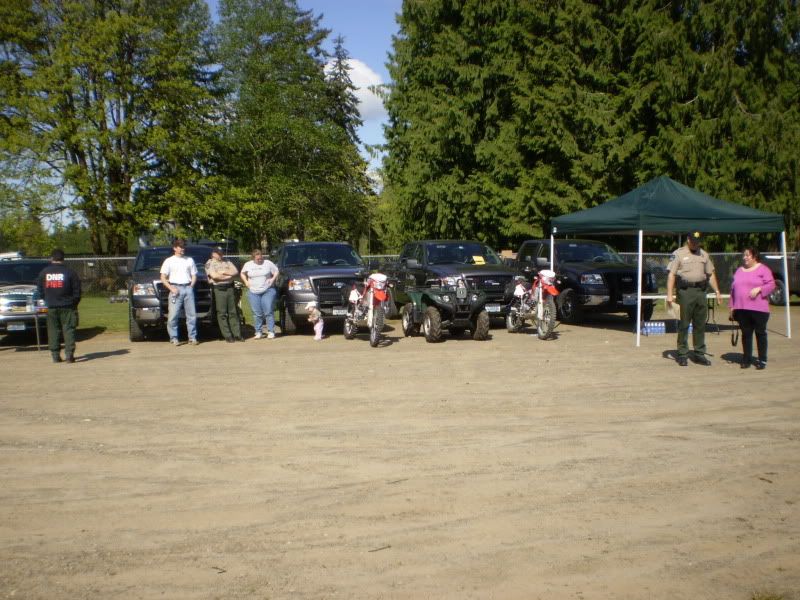 Up next we had the McLane Black Lake Fire Department and Rescue team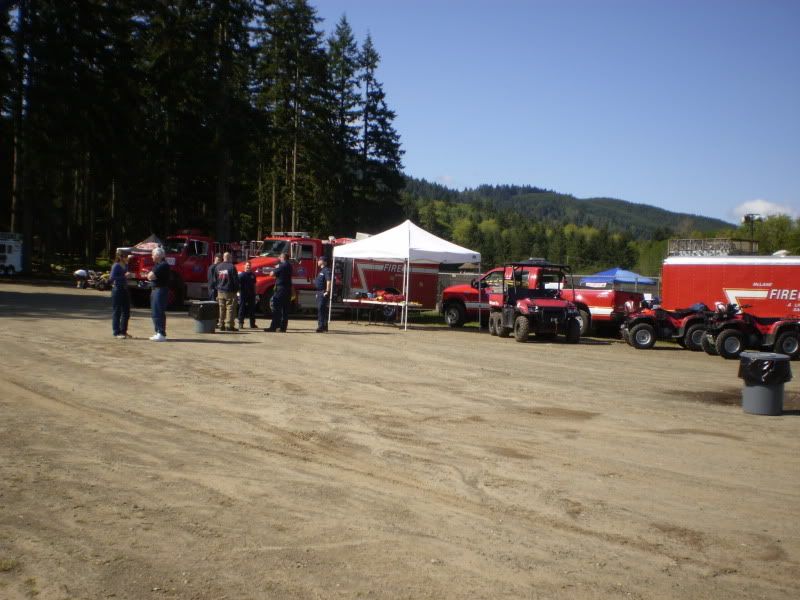 There were a few other booths that I didn't get pictures of, one was the Washington State Snowmobile Association, Yamaha/KTM was there amongst a couple of other vendors.
There wasn't as big of a turnout for this as they had hoped, matter of fact we had a lady telling us that they had done a great job with organizing everything.....but a bad job on advertising it. From my understanding this was the 2nd year of them putting it on. Along with having a big raffle, they did a couple of skits. One about Motorcycle out of compliance and one was an Injured Rider scenario. WOHVA had what they called a "Passport to family fun" which was on the back of the agenda for the day. There was 6 squares and you had to go around and collect a stamp from the different booths and then take it to the WOHVA booth to get a free t-shirt.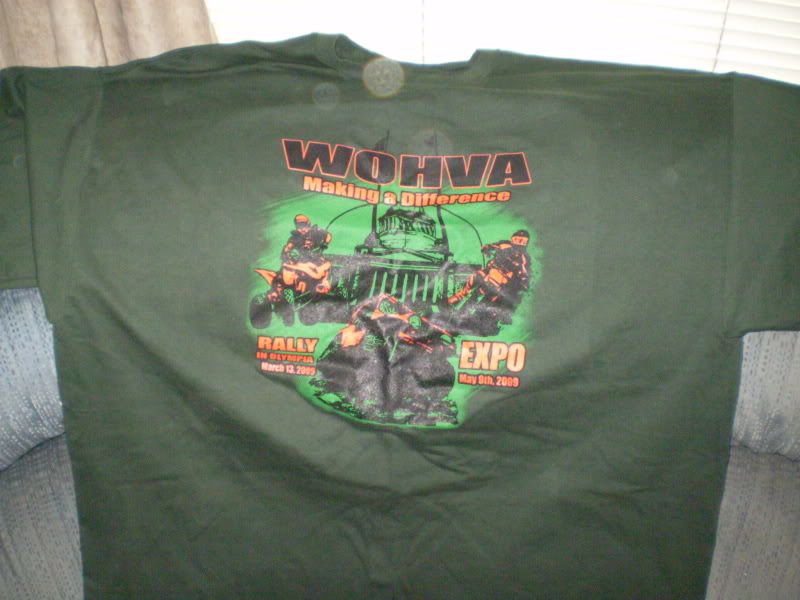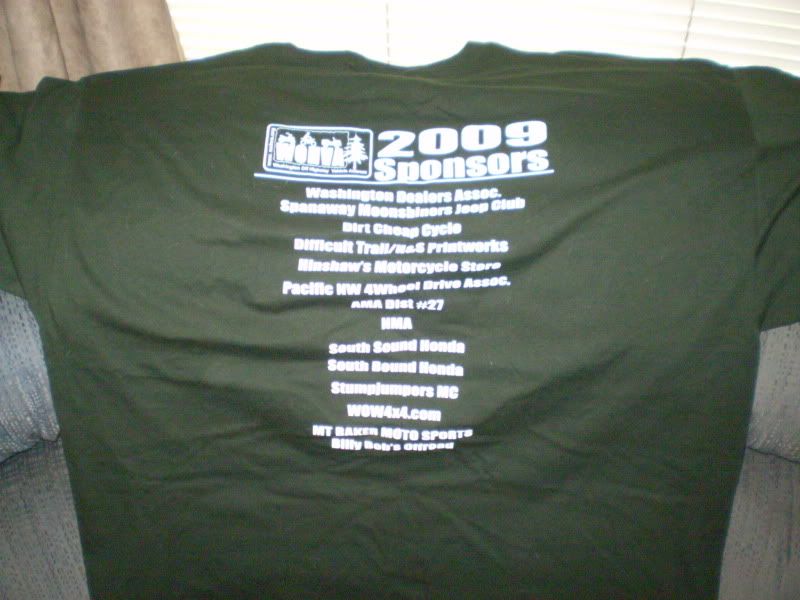 A short while after Reco's gurl and I were there Reco Very showed up and we all did a bit of walking around checking things out and getting our free shirts. We had quite a few people stop by the booth and lots of kids looking for stamps to get their shirts. As always the pictures are always a bit hit, but I need to have more dirt bike a quad pictures someplace other than on my slide show. We had quite a few people asking about good riding areas and trails so we were glad that I had the trail book with us to show them some and how to get there. But after stopping by the Yakima County Sheriff's department booth I have some good ideas for maps......I just need to get my hands on maps other than Yakima County!!
All in all it was another good time. I even managed to get a little sunburned! We met lots of people and made new contacts. We ended up with a free case of energy drinks from Rockstar and a bunch of Redbulls too, and even more ideas of things we can do to promote ORV Trail Watch. We ate some good food......including a HUGE Elephant ear...YUM YUM!!!
At 2pm we tore down and loaded everything back in the car.
That is when I remembered that we needed to look at my car to see why it was squealing the way it was. So Reco Very and I popped the hood and took a look. I figured the belt was going to be loose.....and boy was it!! I could move it two inches!! You could put your fingers in between the belt and the alternator pulley (which I don't recommend anyone doing if the car is running!). Well, Reco Very noticed that one of the tensioner bolts had backed out, so we were looking at tightening that and then realized......
THE WHOLE ALTERNATOR WAS FALLING OFF!!!!!!
There is a 4 inch long bolt that holds it on there and there was only a 1/2 inch of the bolt in the hole - 3 inches of it was hanging out!! Luckily enough Reco Very had some tools in his car and between the two of us we managed to get it put back toghether. So Reco Very finally got to do his first recovery.......even though it wasn't on the trail!! He didn't even have his recovery truck with him and has one bum hand at the moment due to just having surgery almost two weeks ago. It wasn't an easy fix by any means......there's not very much room under the Honda's hood! Only one of us could put our hand in there at a time. I have a picture of me working on it........I had to censor it a little before I could post it. I was not exactly happy that we were having to do what we were doing where we were doing it.
But we got it taken care of and headed home. We stopped by the Reco's house again and had a yummy dinner of beer brats, home made potato salad and grape salad next door (thanks Mom!) and then I hit the couch for a nap before heading back over the mountains.
Every time we set up a booth somewhere it gets our name out more and more, which we definitely need the support. I'm really hoping we can get some more members volunteering to spend some time in the booths, I know of course that means we all need more notice that these things are happening. But that will come with time and a little more organization. We are getting to the point that our booth is becoming more and more interesting to the passing crowd so we drawl more attention and don't have to lose our voices doing it. :lol: